London - Core Demonstration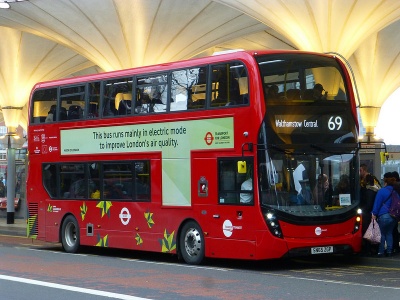 Consult the page of London in the ZeEUS eBus Report - here.
____________
London, a city rich in history, diverse in culture and at the forefront of modernisation is leading the way in developing and implementing transport innovation. The British capital is a global leading city that has an extensive urban transport network to support its enormous growing urban population of 8.3 million inhabitants. In the bustling city, London buses operate 24 hours per day, 7 days a week. Every working day, its urban bus network supports more than 6.4 million journeys across 700 bus routes with 8700 buses and 19500 bus stops.
Since 2000, the size of London's bus fleet has grown rapidly and the air pollution of the city has suffered tremendously as a result. The London demo fits within the context of the Mayor of London's target of reducing the cities CO2 emissions by 60% in 2025 from 1990 levels, and a 40% reduction in PM and 50% in NOX emissions from road transport by 2018.
The objective of the London demo is to demonstrate the viability of plug-in hybrid buses as a solution to the capital's air quality issues. The research priorities for the London demo are to analyse and evaluate the practicality and operational demands and to quantify potential fuel/carbon savings.
The London demo will use 3 standard 12m plug-in hybrid buses using inductive charging technology at end stations and slow charging overnight at the bus depot. The live operational demo uses the 69 bus route that goes from Canning Town in the core city centre of London to Walthamstow Central Bus Station. The route which is 11km long has a running time of 40-50 minutes long.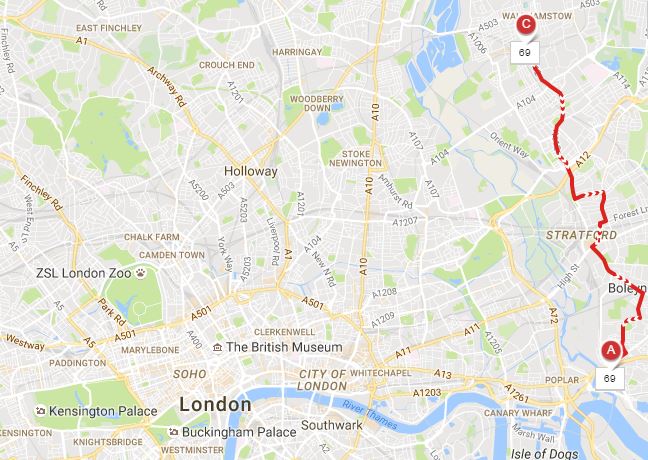 Vehicle technology: 3x Plug-in Hybrid Electric
Brand and model of the vehicle: ADL E400H
Bus length: Double decker 12m  
Charging technology: Inductive charging at end stations, slow charging at bus depot
Line: 69
Start of the operation: December 2014
Total passenger capacity: 83 passengers