Münster - Core Demonstration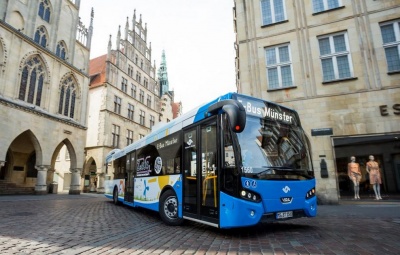 Consult the page of Munster in the ZeEUS eBus Report - here.
____________
The historical city of Münster lies in the Rhine-Westphalia region of Northern Germany and has an urban population of 300,000 inhabitants. The medium sized city has an urban bus network of 20 bus routes that carries 100,000 passengers on a daily basis.
The objective of the Münster Demo is to demonstrate the first high capacity battery-bus route in Europe with fast charging infrastructure at end stations and the bus depot. The city of Münster is motivated to become a renowned leader in electromobility and support their roll out of electric vehicles and their vision of electromobility is shared with that of the ZeEUS project.
The Münster demo runs 5 high capacity 12m battery electric buses in a live operational demonstration. The VDL Citea Electric buses operate on the route 14 situated in the city centre of Münster with four of the five electric buses coming from the ZeEUS project and one of buses coming from the former German Federal e-bus project 'SEB'. The 500kWh fast charging technology will be situated at both ends of the electric route and will take approximately 3-6 minutes to charge with another fast charging facility at the bus depot.
The Münster Demo team is led by RWTH Aachen University and includes Stadtwerke Münster GmbH, Berends Consult, VDL Bus and Coach and Fachhochschule Landshut University.
Vehicle technology: 5 x Full Battery Electric
Brand and model of the vehicle: VDL Citea Electric
Bus length: Standard 12m  
Charging technology: opportunity charging at terminal
Line: 14
Start of the operation: September 2015
Total passenger capacity: 80