Paris - Core Demonstration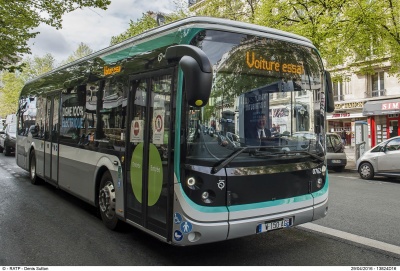 Consult the page of Paris in the ZeEUS eBus Report - here.
____________
In order to respond to the needs of the Ile-de-France region's future transport network, and to meet ever higher passengers' expectations in terms of service quality and reliability, RATP has decided to renew its fleet with clean buses. The group's ambition is to become the world leader in clean bus travel.
The integration of the first 100% electric buses in the RATP fleet is a decisive step in the bus energy transition for the Paris region, which was decided by STIF, the regional transport authority, and which has been translated in the Bus 2025 plan implemented by RATP. The company aims to have a bus fleet (4,500 vehicles) that is 100% green by 2025 and will comprise 80% electric buses and 20% biogas-powered vehicles. The vehicles, 20 Bluebus standard 12 metre 100% electric buses built by Bolloré, will operate on line 341 (Charles de Gaulle – Etoile / Porte de Clignancourt). 

The Paris Demo Team is led by STIF and includes RATP.
Vehicle technology: 20 x fully electric
Brand and model of the vehicle: Bolloré Bluebus
Bus length: Standard 12m  
Charging technology: slow charging at the bus depot
Line: 341
Start of the operation: May 2016
Total passenger capacity: 100 passengers