Plzen - Core Demonstration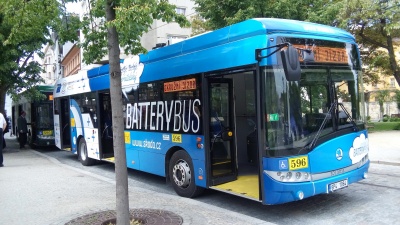 Consult the page of Plzen in the ZeEUS eBus Report - here.
____________
The Eastern European city of Plzen is the 4th largest city in the Czech Republic and was crowned with the title of the European Capital of Culture for 2015. With 170,000 inhabitants the medium sized city has a broad public transport system including 3 tram lines, 9 trolley bus lines and 24 daytime bus lines along with 8 nighttime bus lines. All of the lines combined carry 100 million passengers every year on 15 million km.
The objective of the Plzen demo is to execute a fully operational test of pure electric buses in European conditions that will facilitate the market introduction of electric buses and reinforce the market position of electric buses in the Czech Republic. Plzen has a long history of using electric modes of public transport, but 1/3 of the city vehicles are diesel. The long term goal of the Plzen demo is to continue using the electric buses and charging infrastructure after the successful project completion.
The Plzen demo deploys two SKODA full electric buses in line 33 that starts in the city centre and ends in the largest suburb in the north of the city. The route in total is 7km long and the electric buses will use fast charging infrastructure installed in the bus terminals of the route and slow overnight charging infrastructure at the bus depot.
The Plzen Demo team is lead by SKODA and includes UWB, PMDP and PT.
Vehicle technology: 2 x Full Electric 12m & 2x Full Electric 18m  
Brand and model of the vehicle: SKODA Perun
Bus length: Standard 12m  
Charging technology: fast charging at bus terminals and slow charging at the bus depot
Line: 33, also 29 and 40
Start of the operation: May 2015
Total passenger capacity: 82