Warsaw - Core Demonstration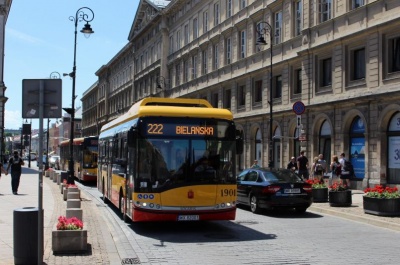 Consult the page of Warsaw in the ZeEUS eBus Report - here.
____________
MZA (Miejskie Zaklady Autobusowe) has been operating the buses in Warsaw for 96 years. 1400 buses transport daily about 1 200 000 passengers. Buses in Warsaw are already very clean and the fleet includes electric and hybrid buses, vehicles running on LNG or equipped with solar panels. MZA is aiming to have one of the cleanest European bus fleet and electrification is part of the process to reach such target. According to the plans, by 2020 130 electric vehicles will be operating in Warsaw. 
In the constant endeavour to improve the services, MZA has renewed the fleets with increasingly cleaner buses, also powered by alternative fuels. Currently 10 electric buses manufactured by SOLARIS are in operation, all of which are being tested within the ZeEUS project. They run on route 222, which is 19,5 km long and crosses the city centre. The demonstration aims at evaluation of EV energy consumption, CO2 and emissions reduction, selected KPI and operational issues (in-service availability, layover times, passenger capacity and satisfaction).
The Warsaw Demo Team is led by MZA and includes PIMOT.
Vehicle technology: 10 x Full Electric & 6 x BYD
Brand and model of the vehicle: Solaris Urbino U12e and K9 (Variant of BYD
12m Overseas)
Bus length: Standard 12m  
Charging technology: slow charging at bus depot, fast charging via the pantograph at end stations will also be implemented at the later stage for Solaris Urbino 12e; Fast-charging at the terminal, slow-charging at the depot for BYD K9
Line: 222
Start of the operation: June 2015 and November 2014
Total passenger capacity: 70 and 60