2014 Annual POLIS Conference Innovation in transport for sustainable cities and regions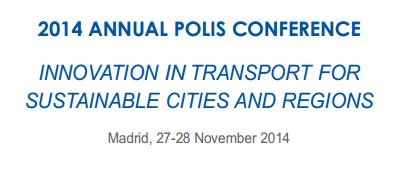 From to
Madrid, Spain
The Annual Polis Conference provides an opportunity for cities, metropolitan areas and regions to showcase their transport achievements to a large audience and for the wider transport community to engage with representatives of city and regional authorities on innovative transport solutions.
The conference offers a mix of high-level plenary sessions, with prominent figures debating topical issues, and a wide selection of technical sessions showing innovation in policy and practice across the transport spectrum.
ZeEUS Project will be present on 28 November during the session "INNOVATIVE AND CLEAN BUS SYSTEMS" with the presentation "ZeEUS project: Bringing electrification to the heart of the urban bus network" with the focus on Stockholm Demonstration. The presentation will be delivered by Jonas Ericson, Stockholms Läns Landsting, preceded by Stephanie Leonard, ZeEUS Project Manager. 
For more information, please consult the event website.