Cagliari Demonstration - Launch Event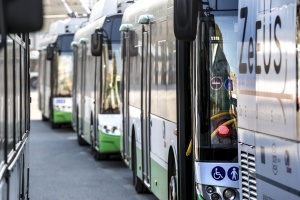 On
Cagliari, Italy
On 22 September, Cagliari will launch the operation of the 2 new fully electric trolley buses Solaris T12 ZEV. The Coordinator of ZeEUS project for the city of Cagliari, Paride Gasparini, Operating Director of CTM, explains: "We have created a special line for the testing phase of the project and we called Line 5-ZeEUS. The line in the winter period coincides with the current line 5, while in summer will come up to Poetto".
The line has been identified because of the varied morphology of way (uphill, downhill, flat stretches) that allows a full exploitation of the potential of the propulsion system as well as the storage and release of energy. The route is one of the cornerstones of the road system of the city of Cagliari, by connecting two highly populated areas. The 5-ZeEus line, in fact, passes through major urban hubs such as train station, bus station, the University and intersects with a number of main lines.
If you wish to know more about this event, please contact pauline.bruge@uitp.org.