Launch Event - Münster Demonstration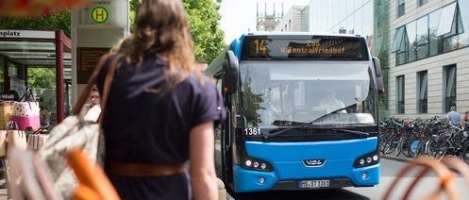 On
Münster, Germany
On 23 April 2015 Stadtwerke Münster will host the presentation of the first ZeEUS electric buses in the city of Münster. It is the next city to launch the live demonstrations, following the event in Barcelona in October 2014.
Click here to read more about the ZeEUS Demonstration in Münster.
The ZeEUS Demo Launch Event, combined with the press conference as well as a test drive around the city, will be enriched by the participation of the Mayor of Münster Mr. Marcus Lewe, representatives of the City Council, the project coordinator - UITP, Federal and Local Ministries, Local and EU Delegates and Demonstration Project Partners.
The programme of the event is scheduled for half a day. The full agenda is available for download at the bottom of the page. 
Registration is free of charge but obligatory. Feel invited to register on Stadtwerke Münster's website.
If you wish to obtain more information about this event, do not hesitate to contact Mr. Umberto Guida.