The bus traffic of the future – seminar about the lessons from the ZeEUS Stockholm project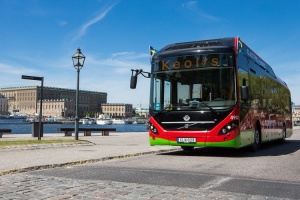 On
Stockholm, Sweden
In March 2015 a demonstration of a new kind of electric hybrid bus line was started in Stockholm. These buses are fast-charged at the end stations and with a full battery they can drive up to 7 kilometers – silent and emission free – on pure electricity. A total of eight buses, manufactured by Volvo, are operating on line 73 between Ropsten and Karolinska Institutet. Two charging stations are installed and operated by Vattenfall. This seminar will discuss the lessons learned from this project. Stockholms Läns Landsting, Volvo Buses and Vattenfall are the key contributors of the demonstration. It is partly financed by EU through the ZeEUS project, Zero Emission Urban Bus System, with over 40 participating companies and organizations.
See the agenda for more details. If you wish to attend the seminar, please send an e-mail to Adm.ZeEUSseminar@volvo.com or  Emilia.nordlund@vattenfall.com by 27 May.
For more information, please contact Pauline Bruge: pauline.bruge@uitp.org.