Creating new generation of buses
Published on
From 18 to 21 April Warsaw held the most important event in Europe for transport research - Transport Research Arena 2016 (TRA 2016). The 6th edition of TRA focused on innovative solutions for the mobility of tomorrow and served as a forum for the exchange of knowledge and experience between the worlds of science and business. "The primary objective of the implementation of innovative transport solutions is to connect people together", said Violeta Bulc, European Commissioner for Transport, opening the conference. "The most burning need for the European Union is to create a transport that is reliable, cost-effective and sustainable. To do so, an appropriate selection of priorities should guide us all. I encourage you to coordinate projects in line with EU priorities, which are, among others, decarbonisation. We will not achieve these goals without investing in innovation".
The key message about the decarbonisation was also passed during the Invited Session EU-Funded Research Projects on Bus Systems – Creating New Generation of Buses. Organised by UITP, the session presented efforts of ZeEUS,ELIPTIC and EBSF_2 projects, which aim to enhance the image of the bus and encourage modal shift away from the car.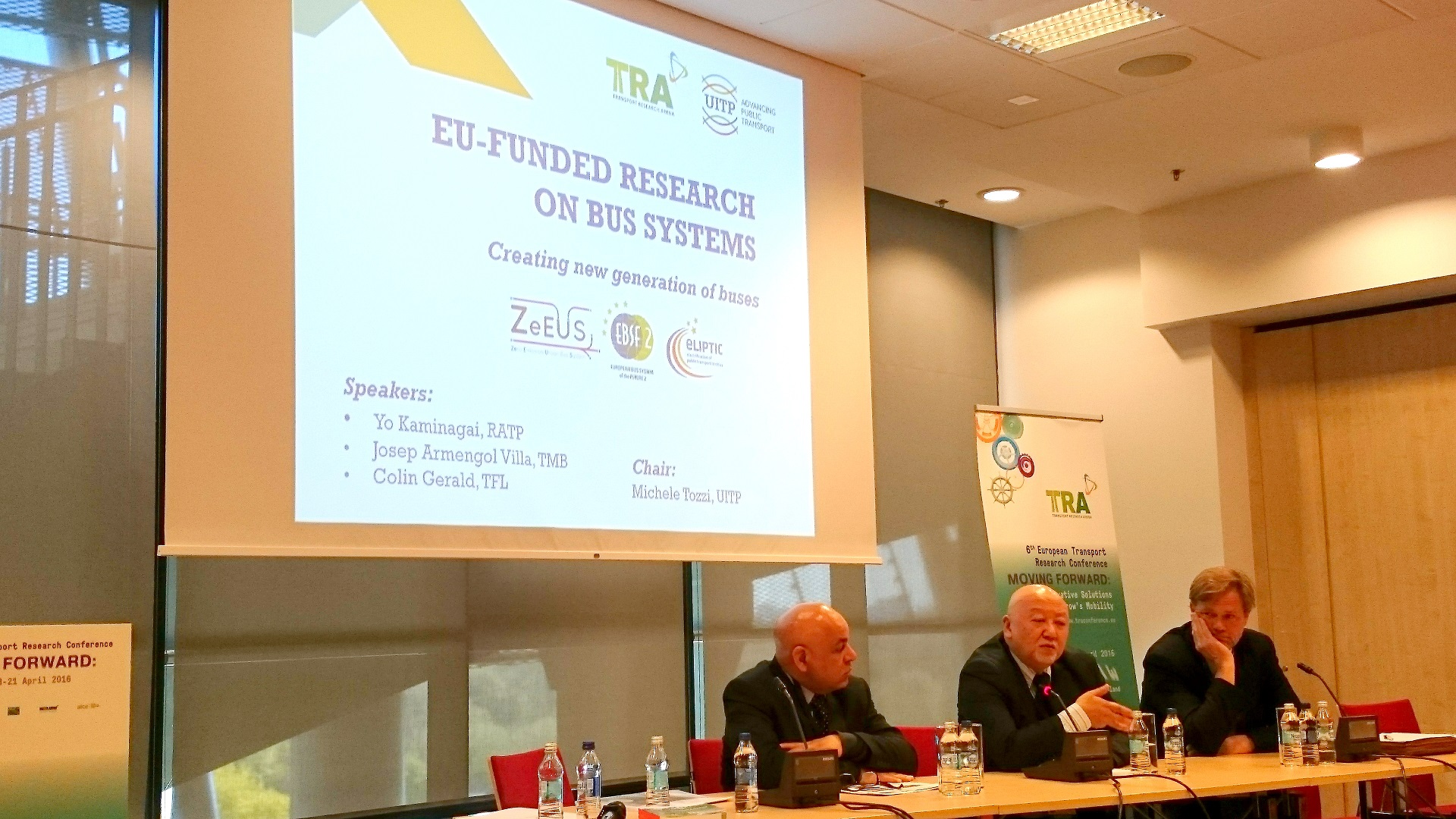 "To attract more passengers, we need to change the atmosphere inside the bus and the introduction of electric buses offer the opportunity to propose a radical change in the bus design", said Yo Kaminagai (RATP). "That's why EBSF_2 formed a design working group with the aim to address a strategic question: can we express an electric bus as a new urban object in light of the key opportunities offered by the energy transition?" The Group has already identified the most promising domains in need of new design specifications to change the image of the bus beyond its pure technological transformation. The goal is to elaborate A Design Charter for electric buses, consisting of illustrated design principles the manufacturers can mix with their own brand standards to produce vehicles.
Colin Gerald (TfL) focused on the tools produced in ZeEUS: "We are working on standardised specifications for electric buses to make the introduction of electric vehicles a sustainable process. The interest and ultimate need of standards for electric buses with regards to the charging infrastructure is clear to support their market deployment. ZeEUS will provide a clear contribution to the development of standards for electric buses in line with the mandate given by the European Commission to CEN/CENELEC".
Josep Ma Armengol from Transports Metropolitans de Barcelona (TMB) presented their experience of electric bus charging infrastructure in Barcelona and how this presents a new way of working for the operator. TMB is testing two 18m SOLARIS electric buses this year that will use opportunity charging with pantographs. Opportunity chargers will be installed in the bus terminal and in the street. A crucial challenge is how the buses will exchange the information between the control centre, chargers and ebuses respectively, stressed Josep Ma Armengol.
For more information, contact Marta Van den Bergh: marta.vandenbergh@uitp.org.