ZeEUS Demo in Stockholm: Electric hybrids on line 73 have their names
Published on
Eight electric hybrid buses tested within the ZeEUS demonstration in Stockholm got their names on Friday, August 28th during the ceremony at the Keolis depot in Frihamnen. Bus drivers had had the opportunity to suggest a name starting with EL (from ELectric), after which eight names were selected: Ellinor, Elin, Elmer, Elton, Elvis, Elina, Elgar and Electra. The names are placed above the front door and give the buses a more personal touch.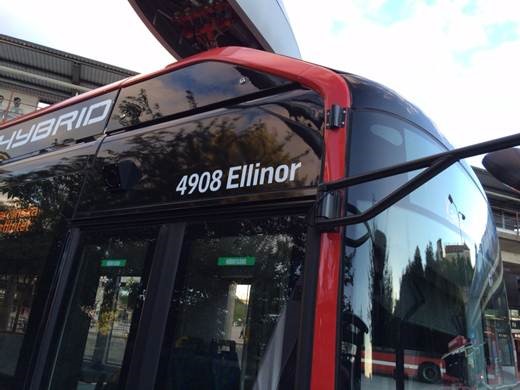 "The project has been very successful so far. The buses operate on electricity for about 40% of the route as at the moment there is only one charging station running. However, in terms of operation time, which includes also pauses at bus stops, pedestrian crossings and traffic lights, the electric motor is used for 70% of the time. The bus operation is quieter and the air cleaner, I look forward to seeing the results when both charging stations are in operation,
says Maria Övergaard, bus strategist at the department of Strategic Development. Anna Forsmark, project manager at the department of Projects and Procurement confirms:
Both passengers and drivers appreciate the new technology and think it's advantageous as noise and emission levels are lower. It's great that the project brings benefits for passengers and environment. The technology is also economically efficient, despite being only in an early stage of development. 
Background
SLL, Volvo, Vattenfall and the research institute Viktoria ICT participate in a joint project ZeEUS (Zero Emission Urban Bus System), co-funded by the EU and led by UITP. The objective of the demonstration in Stockholm, one of ten European cities taking part in the project, is to test a new electric hybrid line 73 during 2015 and 2016. Since March this year, eight buses have been operating on the route Ropsten – Karolinska. The buses are now charged in one of the end stops, in Ropsten, and during the autumn a second charging station will be built at the Karolinska terminus. The installation of the 2nd charging station will enable operation on electricity for most of the time. Introduction of electric buses aims to lower emissions and noise, contributing to the better quality of air and life in cities.