New fully electric trolley buses in Cagliari - CTM goes hand in hand with ecology!
Published on
With the cutting of the ribbon and the maiden voyage of the new fully electric trolley buses Solaris T12 ZEV, the CTM, together with representatives from the City of Cagliari, Province of Cagliari and the City of St. Helens, inaugurated start of the service of the clean vehicles, which will run within the ZeEUS project.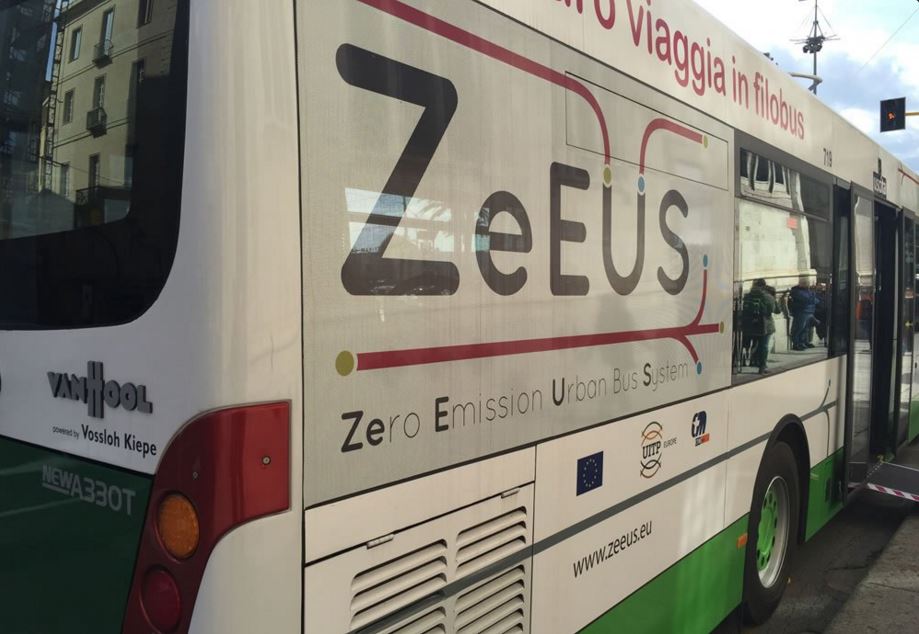 The President of the CTM, Roberto Murru, declared: "We have set ourselves the goal of developing eco-friendly technologies and innovative solutions, which can be applied in public transport. Cagliari is in fact the only Italian city chosen among European cities for the testing of ZeEus project together in Barcelona, ​​Bonn, London, Münster, Paris, Plzen, Randstad, Stockholm and Warsaw. From the ZeEUS project, we expect data useful for the improvement of public transport systems in terms of vehicle performance, comfort, energy consumption, emissions and noise levels. The CTM trolleybus fleet consists of two trolleybuses Solaris Trollino Zev (full electric batteries), 10 Kiepe Van Hool A330T (in delivery) 4 Kiepe and Van Hool A330T (full electric batteries - in preparation), in addition to the 16 trolley buses Solaris Trollino purchased in 2012 and already circulating on 5-30 lines and 31. In total, there are 32 new trolley buses that maintain the CTM fleet among the youngest in Italy and Europe.
The Coordinator of ZeEUS project for the city of Cagliari, Paride Gasparini, Operating Director of CTM, has significant experience and trolleybus explained: "We have created a special line for the testing phase of the project and we called Line 5-ZeEUS. The line in the winter period coincides with the current line 5, while in summer will come up to Poetto".
The line has been identified because of the varied morphology of way (uphill, downhill, flat stretches) that allows a full exploitation of the potential of the propulsion system as well as the storage and release of energy. The route is one of the cornerstones of the road system of the city of Cagliari, by connecting two highly populated areas. The 5-ZeEus line, in fact, passes through major urban hubs such as train station, bus station, the University and intersects with a number of main lines. Data will be gathered and compared for a performance of two fully electric trolley buses and trolley buses with diesel motor generator 6, as well as two 12-meter diesel-powered buses Citaro Euro 5. The line includes a stretch of about 4.5 km continuous battery, including the central part of via Roma in winter, and the stretch of Poetto in summer. The performance of the trolleybus and bus will be measured in reference to 95 Key Performance Indicators (KPI - Key Performance Indicator), which will allow to assess and compare factors such as fuel consumption, comfort, charging times, maintenance costs, emissions, noise pollution, speed and reliability.
For more information contact Pauline Bruge: pauline.bruge@uitp.org.