Presentation of the ZeEUS bus in Stockholm
Published on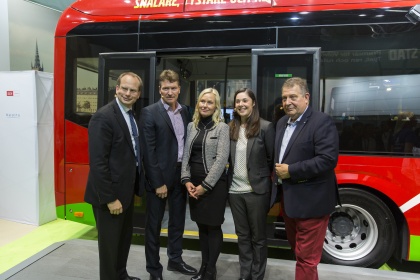 Yesterday Volvo presented the ZeEUS12m plug-in hybrid bus at the Stockholm Fair, the largest public transport event in the Scandinavian region. The bus was unveiled by Jörgen Sjöstedt, Volvo Director for the Nordic region and, after a short reception, 5 keynote speeches from the partners of the Stockholm demo ensued:
Mr. Håkan Agnevall CEO of Volvo Bus Corporation
Ms. Anna Johansson, Swedish Minister for Infrastructure
Mr. Anders Lindström, CEO of Storstockholms Lokaltrafik (SL)
Mr. Torbjörn Wahlborg, CEO of Vattenfall Nordic Region
Ms. Stephanie Leonard, ZeEUS Project Manager, UITP
Eight Volvo 7900 buses will be put in operation in Stockholm as a part of the ZeEUS project with two running from mid-december onwards and all eight put in operation within the first quarter of 2015. This demonstration will be the biggest core demonstration, turning an entire line electric with eight buses in demanding Scaninavian operational conditions.
On the photo, from the left:
Mr. Håkan Agnevall, CEO of Volvo Bus Corporation
Mr. Torbjörn Wahlborg, CEO Vattenfall Nordic Region
Ms. Anna Johansson, Swedish Minister for Infrastructure
Ms. Stephanie Leonard, ZeEUS Project Manager, UITP
Mr. Anders Lindström, CEO of Storstockholms Lokaltrafik (SL)