RATP and STIF launch the first fully electric standard bus line in the Paris region
Published on
Valérie Pécresse, president of the Ile-de-France regional council and of the STIF transport authority, Elisabeth Borne, RATP president and chief executive, and Vincent Bolloré, Bolloré group chairman and chief executive, inaugurated on 30 May the first 100% standard electric bus line.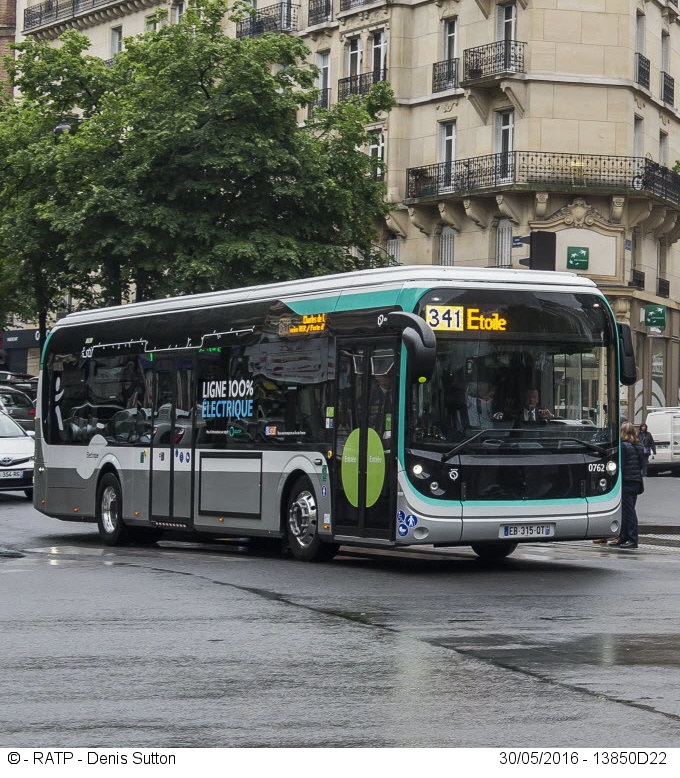 By the end of the year, Line 341 (Charles de Gaulle – Etoile / Porte de Clignancourt) will be equipped with 23 Bluebus standard 12 metre 100% electric buses built by Bolloré. This is a first in Europe for a fleet of this size. Buses will be recharged at night at the Belliard bus depot in the 18th arrondissement, a measure that will not drain the electricity grid during peak times.
The integration of the first 100% electric bus in the RATP fleet is a decisive step in the bus energy transition for the Paris region, which was decided by STIF, the regional transport authority, and which has been translated in the Bus 2025 plan implemented by RATP. The company aims to have a bus fleet (4,500 vehicles) that is 100% green by 2025 and will comprise 80% electric buses and 20% biogas-powered vehicles.
The first fully-electric line will help RATP and STIF gather as much information as possible in both operations and maintenance thanks to surveys of drivers, passengers and locals.
In addition, the initiative has been selected by the European Union to take part in the ZeEUS project (Zero Emission Urban Bus System, a European program to boost the introduction of electric buses in cities).
For Elisabeth Borne, "Bus 2025 is a challenge that is both bold and ambitious, and which calls on all the company's expertise in engineering, maintenance and operations. The advent of the first 100% electrically-powered bus is a key moment in the RATP energy transition and demonstrates that there are now long-term, alternative solutions to today's environmental challenges".
You can learn more about the Paris Demo from the brochure available here.
In case of questions, contact Pauline Bruge: pauline.bruge@uitp.org.