Stockholm: Fully Electric Hybrid Buses in service since yesterday
Published on
On 16 March 2015, the operation of the first fully electric hybrid buses was launched on the line 73, passing through the central areas of Stockholm.
The full electrification of this bus line was the subject of a roundtable discussion moderated by Jakob Lagercrantz, 2030-Secreteriat with the participation of Kristoffer Tamsons, Trafiklandstingsråd; Magnus Åkerhielm, President Keolis; Håkan Agnevall, President Volvo Bus Corporation; Andreas Regnell, Strategy Manager Nordic Vattenfall and Pauline Bruge, ZeEUS Project Manager at UITP.
"It is important for operators to learn different techniques and for politicians to see the different options available for emission-free public transport", said Pauline Bruge.
Participants could also enjoy a noiseless and smooth ride as well as a demonstration of the charging operation just before the start of the service.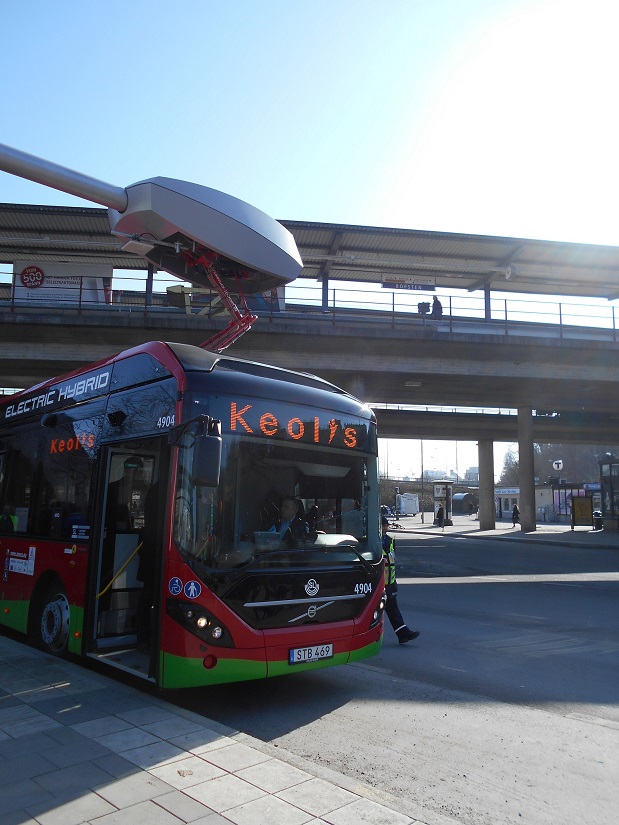 Within the frame of the ZeEUS project, Stockholm is putting in service 8 plug-in hybrid buses of 12 meters and testing the efficiency of the electric solution in the challenging Swedish weather conditions. Stockholm ZeEUS Demo Partners: Volvo Buses, Storstockholms Lokaltrafik, Viktoria Swedish ICT and Vattenfall have joined forces with key stakeholders - Keolis and Siemens - to work hand-in-hand towards this goal.
If you wish to obtain more information about the ZeEUS demonstration in Stockholm, please contact Ms. Pauline Bruge: pauline.bruge@uitp.org
.