ZeEUS Launch in Bonn: six e-buses to commence regular service
Published on
The starting signal for the launch of electrically-powered buses in Bonn was fired as early as the beginning of 2015: the supervisory boards responsible decided to take part in an EU demonstration project entitled ZeEUS (Zero Emission Urban Bus Systems), which provides financial support for the use of electrically-powered public service buses using various charging methods.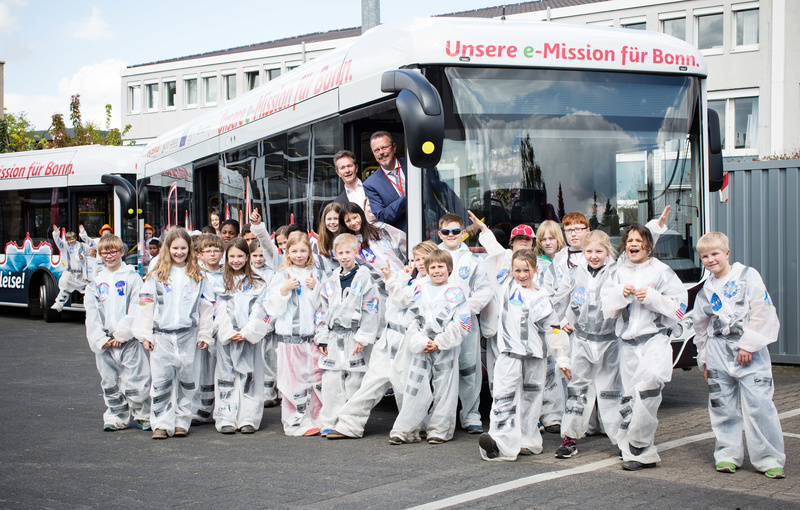 The event inaugurating the service of 6 Bozankaya Sileo e-vehicles took place yesterday. The conference welcomed The 'Climate Astronauts' of Gottfried Kinkel Elementary School Oberkassel, who arrived on E-Mission in Bonn with the song Climate Astronauts (listen here).
Stadtwerke Bonn (the municipal utilities company) have been dealing quite intensively with the subject of electromobility for several years now. In a feasibility study at the end of 2013, the Fraunhofer Institute for Transportation and Infrastructure Systems confirmed that, based on the current state of the art, Bonn's entire bus service network, with the exception of the airport bus, is suitable for the use of electric buses.
Complete switchover by 2030
According to the study, it would be possible to switch over to electric buses throughout the entire transportation network by about 2030. The theoretical deliberations have been confirmed in practical tests using the electric buses of various manufacturers. The award of the contract for participation in the EU's ZeEUS support project with 6 e-buses has facilitated the decision to purchase these vehicles, which are still quite expensive, to a considerable degree.
A direct comparison between various buses
In addition to Bonn, another nine cities and towns are participating in the ZeEUS project, which is being conducted under the auspices of UITP (International Public Transport Association): Stockholm, London, Paris, Münster, Plzeň, Warsaw, Barcelona, Ranstad, and Cagliari. Up to 2017, findings are to be collated regarding the commercial viability and operational suitability of electric buses as opposed to diesel-powered buses.
Electromobility is viewed as the market of the future
Public local passenger transport has always been a mode of transport that is exceptionally environment-friendly. With more than a hundred years' experience of electromobility in the sphere of railways, its chances as regards bus transport are now to be discovered too. Electric buses are particularly suitable for regular public services as plans can be made both as regards routes and the mileage involved. With their introduction, the industry wishes to make an additional contribution to an even more sustainable urban transport system. However, to get the upper hand against the established diesel technology, further advances have to be made in both battery and charging technologies. Support programmes such as the EU's ZeEUS demonstration project create the commercial framework that enables the public local passenger transport system to try out electric buses in regular services while also giving industry scope for further research in the engineering and standardization sphere.
Electric bus operating plan
SWB Bus und Bahn differs from other local transport companies in that it is putting its faith in electric buses with a wide range. That is why recharging operations can be dispensed with in the Bonn transport network. The batteries are only to be charged overnight at charging stations in the depot. This will enable SWB's electric buses to be deployed flexibly on all bus routes. With the usable battery charging capacity of 230 kWh, a range of more than 200 km can be attained. Two 85 kW rear-axle motors in the proximity of the wheels can reach a top speed of 75 km/h.
CO2-free drive with SWB's "BonnNatur Strom" (Bonn green power) product
The electric buses in Bonn will be powered with SWB's "BonnNatur Strom" green power product. The product bears the "Green Power" quality label awarded by the environmental associations and consists 100% of electric power from renewable sources. By this means, Bonn's six new buses will be powered in a CO2-neutral fashion. Stadtwerke Bonn view electromobility as a technology of the future. If the necessary prerequisite - that the power for driving electric vehicles should come solely from renewable energy sources - is met, as is the case with the electric battery-operated buses run by Stadtwerke Bonn, electromobility can make an effective contribution to climate protection.
Electric buses - a climate-compatible alternative
The desire to be independent of fossil fuels, the reduction in greenhouse gas emissions that goes hand in hand with this, and efforts to reduce noise levels have made the search for alternatives to diesel-powered buses quite indispensable. The last few years have seen considerable advances in the development of electric drives and storage technology. Electric buses are now suitable for everyday use. Nevertheless, in the first instance on account of their storage capacity, which still requires optimization, electric buses remain limited when it comes to their range.
Both passengers and the local residents appreciate electric buses due to their being quiet
It will still take some time for electric buses to get the upper hand in regular transport services nationwide. But the electric vehicles that SWB Bus und Bahn has tested in regular transport services since 2013 have already been very positively received both by passengers and by local residents in streets with intensive bus service traffic. Cities are being confronted with noise and particulate air pollution to an increasing extent.
Electric buses are both low-noise and emission-free - major advantages
Thus the use of electric buses also matches other urban goals such as Bonn's air pollution control plan and the City's noise reduction measures. Quiet, CO2-neutral, and environment-friendly electric buses appeal on account of these qualities, as they make a considerable contribution towards improving the urban climate. Why not see for yourself? Just take a seat in one of our new electric buses.
Bonn - a UN city: For sustainable development and climate protection
By addressing the topics of sustainability and climate protection, the Federal City of Bonn, inter alia the seat of UNFCCC (United Nations Framework on Climate Change), wishes to fulfil its particular responsibility as the German United Nations City. The six electric buses and the City's participation in the EU's ZeEUS project are yet another of Bonn's climate protection projects, and complement the municipal programme for the promotion of electromobility in our region.
The new electric buses
The (Sileo type) 12-metre S12 electric buses have been fabricated in Salzgitter in the plants run by the Sileo bus manufacturing company. The buses can accomodate 38 seated passengers (including the driver), with standing room for 42 more users. The electric bus is equipped with an intermodal transport control system (ITCS), a video surveillance system, an on-board computer, and a ticket printer It provides access to passengers with restricted mobility, offering space for wheelchairs and rollator walkers and a ramp enabling handicapped persons to get on board. The stop signal buttons bear a message in Braille. A USB port enables passengers to charge mobile devices with green power from the bus battery.
You can find further information at www.swb-ebusse.de.
Vehicle model: Sileo S12
Length: 12 metres
Passenger capacity: 80 persons (38 seats/standing room for 42)
Usable battery capacity: 230 kWh
Range: at least 200 kilometres
Air conditioning system: Spheros (electrically-powered)
Heating system: Spheros (fossil fuel)
Charging strategy: overnight charge
Charging method: electric plug
Charging capacity: 40 to 64 kWh
For more information, contact Pauline Bruge: pauline.bruge@uitp.org.